The campus as a regional sustainable innovative engine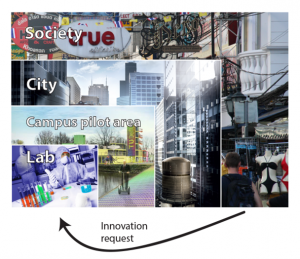 Universities and their campuses are great sources of (sustainable) innovation brought about by their scientists, students and entrepreneurs. Moreover, most universities are committed to more sustainable operations. Nevertheless, they hardly ever apply the ground-breaking innovative technologies developed by their own people.
Campus operation usually is very conventional and innovations are derived from the market and with that incremental at best. This Pathfinder project has paved the way to change current practice on campus and turn universities, their campuses and their inhabitants into key players in the transition towards a resilient sustainable society.
A synergetic European campus network was formed to facilitate and speed up the development of sustainable innovations and their regions. Each university has strengthened the network in its own unique way by exchanging best practices, pilot facilities and innovations. This way the amount of pilot circumstances for new innovations have increased as well as the potential for start-up companies to deliver them to market. The participating campuses formed the basis for ground-breaking climate innovations.
The ultimate goal of this Pathfinder was to turn each campus in the Climate-KIC network into a regional innovation engine covering the development trajectory from idea to model to pilots, eventually pushing the innovations into the market. Campuses have developed new sustainable technologies and services while also being the launching customer. By being an accessible interactive laboratory and dynamic display window involving scientists, students, start-up companies and SMEs these campuses serve as an example for the region.
Read more:
>> Flyer Sustainable Campus Launching Customer
>> Objective
>> Campus information
>> Innovations
>> Project partners